ZIJA SUPERMIX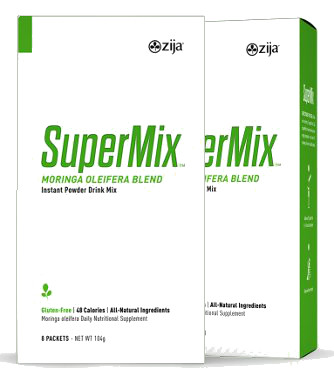 Zija's SuperMix utilizes the most nutrient-dense botanical on earth, Moringa oleifera, to deliver quality benefits that our body needs to be metabolically alert, manage our weight and convert calories into functional energy.

SuperMix delivers maximum nutrition by combining several valuable parts of nature's "miracle tree" in our proprietary blend. By utilizing Moringa leaves, seeds and fruit, which complement each other nutritionally, we are able to address many of today's common nutritional pitfalls.

SuperMix is Zija's most Moringa-enriched product available, delivering substantial nutrition in a convenient and delicious form. By consuming this nutrition regularly, SuperMix can help control food cravings and allow us to feel more sustained.


---
Save up to 30% as a Repeat Order Customer and have your selected products arrive automatically to your home each month -
CLICK HERE FOR INFO
Get
FREE SHIPPING
on all orders over 50PV by enrolling as a Premium Member when signing up as a Repeat Order Customer, Wholesale Member, or Distributor