ZIJA XMPM CAPSULES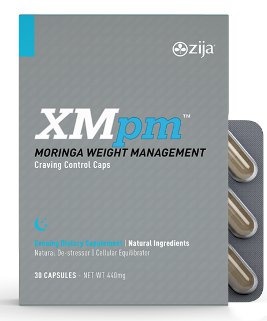 The breakthrough formula in Zija's XMpm caps combines healthy Moringa with other natural ingredients to reduce stress, stabilize your mood, combat evening cravings and prepare your body for restful sleep. With Zija, you're covered both day and night.

Atlantic Sea Kelp aids in digestion and weight loss while feeding your body vitamins and minerals like iodine, calcium, and protein. Ashwagandha, an herb derived from plant roots, helps promote a calm mind and body. The leaves of the Gymnema Sylvestre plant decrease sugar cravings that often arise in the evening hours.

Zija's XMpm was fomulated with natural botanicals to help relax the body while providing a natural feeling of satiety - especially when faced with large meals or late-night cravings.


---
Save up to 30% as a Repeat Order Customer and have your selected products arrive automatically to your home each month -
CLICK HERE FOR INFO
Get
FREE SHIPPING
on all orders over 50PV by enrolling as a Premium Member when signing up as a Repeat Order Customer, Wholesale Member, or Distributor