RIPSTIX HYDRATE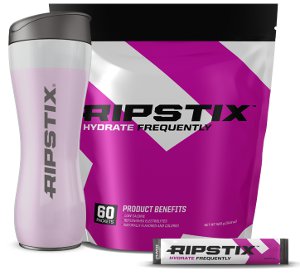 Over 150 million people in North America consume soda on a daily basis, with the average soda drinker taking in three glasses per day. This mass consumption can have many negative long-term effects on individual health and wellness.

To help address the soda epidemic, Zija International has formulated Ripstix Hydrate. At just 24 calories per packet, 1/10th the amount found in a large soda, it is a superior alternative to the sugar-laden beverages so prevalent today. Its bright pink color also comes naturally from beet juice powder and elderberries.

Ripstix Hydrate tastes great, replenishes essential electrolytes lost through regular and physical activity, and is safe for all ages.


---
Save up to 30% as a Repeat Order Customer and have your selected products arrive automatically to your home each month -
CLICK HERE FOR INFO
Get
FREE SHIPPING
on all orders over 50PV by enrolling as a Premium Member when signing up as a Repeat Order Customer, Wholesale Member, or Distributor